With the 2019/20 Premier League season due to restart on June 17th, Manchester United find themselves in 5th position on 45 points with 9 matches to be played. For context, this is 3 points behind Chelsea in 4th and 8 behind Leicester in 3rd. One look at the results over the season however and there is an immediate sense of what could've been, with too many points dropped to weaker opposition. United have lost to Crystal Palace, West Ham, Newcastle, Bournemouth, Watford and Burnley in addition to a frustrating home draw with Aston Villa.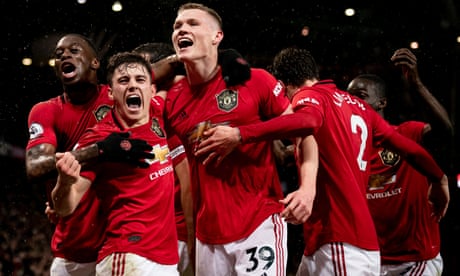 On the flip side, United's record in all competitions against the traditional 'big 6' this season has been fantastic aside from a few slip-ups. Out of the 12 matches played against the 'big 6' this season, the Red Devils have come out victorious in 7, drawing 2 and losing 3. This is the kind of form against the top sides you would expect from a team finishing 3rd at minimum and arguably pushing for 2nd.
Wins
4-0 vs Chelsea (H) – Premier League
1-2 vs Chelsea (A) – Carabao Cup
2-1 vs Spurs (H) – Premier League
1-2 vs Man City (A) – Premier League
0-1 vs Man City (A) – Carabao Cup
0-2 vs Chelsea (A) – Premier League
2-0 vs Man City (H) – Premier League
Draws
1-1 vs Liverpool (H) – Premier League
1-1 vs Arsenal (H) – Premier League
Defeats
2-0 vs Arsenal (A) – Premier League
1-3 vs Man City (H) – Carabao Cup
2-0 vs Liverpool (A) – Premier League
vs Manchester City
United have faced City 4 times so far this season, remarkably winning 3 of those, completing the league double over them in the process.
The first of which was the 1-2 away win in the league. United set up in their most commonly used formation this season (4-2-3-1), with the focus on defending narrowly as a team. Rashford and James would tuck in whilst City had possession to prevent the midfield overload City were looking for. Fred and McTominay were positioned at the base of United's midfield and predominantly followed City's 'free 8's' (Silva and De Bruyne) to prevent them picking up the ball in the half spaces, where they so often thrive. With the 2 advanced midfielders covered, Wan-Bissaka and Shaw were able to press City's wingers out wide without the constant fear of leaving vast spaces for Silva and De Bruyne to run into behind them.
When there was a turnover in possession, both Rashford and James would immediately look to create width to provide counter-attacking passing options with plenty of space for them to drive into. This encouraged regular crossfield switches of play, involving quick passes to the wide runners to initiate counter-attacks. The first goal was a great example of this as Fred won the ball in midfield, immediately releasing Lingard in front of him who quickly played the ball to Rashford providing width of the left-wing. Rashford then simply switched the afterburners on and drove at City, reaching the box before he was chopped down and a penalty was awarded, which he scored.
The second goal originated from a quick long kick forwards from De Gea, initiating the counter-attack in a different way. Clever interplay between Martial and James led to Martial getting a quick shot away, beating the keeper at the near post.
The goal conceded was an Otamendi header from a corner, in which our zonal marking structure was exploited as neither Maguire nor Wan-Bissaka did enough to beat Otamendi aerially and there was some confusion over whose man he was to deal with.
The next fixture against City came at home in the first leg of the Carabao Cup semi-final. Given the success of the 4-2-3-1 in the previous match, Solskjaer decided to use the same system once again. However, the game finished 1-3 to the visitors and United were generally overrun and outclassed for the majority of the match. So why did it go so wrong on this occasion?
First of all, it's certainly worth noting City's different approach, which involved utilising Bernardo Silva in a 'false 9' position rather than using a traditional striker like Aguero or Jesus. One of the main team selection differences for United was the inclusion of Pereira in the midfield pivot next to Fred rather than Matic or McTominay. This made an almighty difference and in short, Pereira had a rough time in this position. City's first goal was a fantastic finish from outside the box from Bernardo who had dropped off in his false 9 position to receive the ball. Once he had received the ball, Pereira made little effort to close him down, so he was allowed the opportunity to shoot which led to the goal. The second goal came from a comedy of errors from Lindelof, who came out of our defensive line to attempt to intercept the ball with a header. He ended up heading the ball straight to Bernardo who once again eased past Pereira, before playing a perfectly weighted pass into the space Lindelof had vacated, setting Mahrez free who was able to round De Gea and finish.
Just to put the cherry on the cake, Pereira added City's third with an own goal after City used a counter-attack against us. Williams was unsuccesful in a last ditch tackle attempt and Jones was sold by the 'fake shot onto left side' move that De Bruyne does so regularly.
United were able to add 1 goal to recover some respect to their names on this day. As the ball was won in midfield, Greenwood drove forwards and played Rashford in behind who had made a diagonal run in between the CB and LB. A good first touch set him up perfectly for what was a clinical finish.
The same sytem used with 2 very different results highlights the importance of the personnel in specific roles as well as simply the system holistically and how everyone has to be switched on and committed to defending for 90 minutes if a counter-attacking style is to be used. Pereira playing in the midfield pivot was an abolute disaster and numerous individual mistakes cost United on this occasion, in comparison to the phenomenal defensive showing at the Etihad prior to this match.
Solskjaer decided to change the team structure for the second leg, setting up the side in a 3-4-1-2 formation which really came into use against the big teams regularly in the second half of the season. The overall approach remained the same, concede possession, defend well and utilise counter-attacks. Matic was used in the midfield pivot and the difference in overall defensive quality was noticeable. It was Matic that grabbed the goal in this 0-1 away win with an instinctive strike from a loose ball, scoring at the near post. The 3-4-1-2 was used again when City came to visit Old Trafford in the league, with Matic once again lining up next to Fred in the base of midfield as well as having the creative addition of Bruno Fernandes in the attacking midfield role. The 3-4-1-2 formation is particularly fruitful against Man City as it allows United to cover the half space runs in a defensive 5-3-2 shape, as well as having wing-backs that can press City's wingers and enough bodies in midfield to avoid being overloaded. The first goal in this game came from a clever free-kick routine from Fernandes and Martial who caught City off guard and for the third time in 3 matches, United scored with a quick strike to City's near post. The second goal, although involving some quick thinking from McTominay, was gifted by Ederson, however, this rounded off a brilliant performance all round, demonstrating a clear intent to improve defensively as a team and individually from the previous home match.
vs Chelsea
A team that really do not want to think about United right now are Chelsea, having been beaten 3 times out of 3 against the Red Devils this season.
The first of which was the opening weekend of the 2019/20 season in which United were using this new 4-2-3-1 formation with emphasis on high pressure on the ball, positional rotations amongst the front 4 and quick counter-attacks making full use the abundance of pace within the forward line. All 4 goals originated from various fast counter-attacking combinations. Rashford's penalty came from a quick break resulting in him getting taken down in the box and his other goal came from a superb long pass in behind from Pogba. Possession for Martial's goal originated on the edge of our own box, with 2 quick passes before Rashford drove at Chelsea. The intial pass was overhit, however, Chelsea were still not fully organised when the assist cross came in and Martial was able to convert. The final goal (James' debut goal) saw United recover possession inside their own box and within 4 passes, James is taking a shot and scoring in the Chelsea box. United suffered a lot of Chelsea pressure and numerous close calls hitting their woodwork, however, United delivered counter-attacking football at its finest and Chelsea could not handle the speed and directness of the attacks.
2 fixtures then followed at Stamford Bridge, one in the league and the other in the Carabao Cup. United used the 3-4-1-2 formation in both of these and came out victorious in both, 1-2 and 0-2 respectively. Aside from the obvious lapse to concede the goal in the first of these games, where Rojo, Maguire and Lindelof all failed to properly close down Batshuayi to prevent him getting a shot away, overall the defensive performances were once again very strong using the 3-4-1-2 formation.
A bullet header from Maguire and one of the best goals I have ever seen from Rashford from a free-kick coupled goals originating from James driving into the area after a turnover (winning a penalty) as well as Wan-Bissaka getting forward as wing-back and providing a pinpoint cross for Martial to head home.
One additional thing to pick out was a particular disallowed goal for Chelsea in the 0-2 win. Mount drifted into the space between LCB (Shaw) and LWB (Williams) and was able to exploit this area and get a cross in for Giroud who converted, but was marginally offside. This is something for United to be wary of in the future as this definitely seems an area than opponents will look to target with Shaw still adapting to life as CB and Williams far from the perfect wing-back in this stage of his career.
vs Liverpool
So far this season, aside from Watford, United are the only other team to take any points from Liverpool in the Premier League this season. This came in a 1-1 draw at Old Trafford and it could've and probably should've been even better for United. This was followed by a 2-0 defeat at Anfield.
United set up using the 3-4-1-2 formation in both of these fixtures. The benefits of this system is that Liverpool's front 3 can be matched by the 3 centre-backs and the wing-backs can press Alexander-Arnold and Robertson. At least one, usually both of the deeper United midfielders can stay sitting deep and pick up Firmino if and when he drops into 'false 9' positions. Preventing crosses from the Liverpool full-backs was a key plan throughout the first match as well as controlling the central areas to avoid overloads when Firmino dropped into midfield. The plan, as with all of the other big matches mentioned, was to look for immediate direct passes to the wings and channels to the 2 wide forwards where the centre-backs would be isolated as the full-backs had pushed forwards.
United's goal came 2 passes later after Lindelof won the ball in his own half in midfield. James immediately made a run out wide and drove forwards as soon as he received it. He then delivered a fantastic cross for his partner upfront, Marcus Rashford, whose clever change of direction movement in the box left him with a simple enough finish, beating both Matip to the ball and Alisson in the net.
United arguably deserved all 3 points, but right at the death, Robertson delivered a cross which zipped right across the box. Rojo was originally marking his man Lallana, but inexcusably left him free for no apparent reason and Lallana was able to tap in at the back post to snatch a point for Liverpool. Once again, an individual error from a squad irregular costing United.
Going to Anfield was never going to be an easy task and United left on the wrong side of a 2-0 scoreline. The 3-4-1-2 was used again and for large parts of the match, United defended as they did at Old Trafford, however, Liverpool were definitely given far more clear chances in this match overall. Just like with Otamendi for City, Van Dijk exploited United's zonal marking system and headed home from a corner before Alisson initiated a late counter-attack of their own to set Salah free and wrap up the match for Liverpool.
vs Arsenal
Despite some incredible results over the like of Man City and Chelsea, United have struggled against Arsenal this season, with a 1-1 home draw and 2-0 away defeat. Both of these matches saw United utilise a 4-2-3-1 formation.
United's 1 and only goal against the Gunners this season came from a rocket from McTominay after a counter-attack move initally broke up. As is starting to become a very undesirable theme, United chucked away all 3 points in the home tie after Tuanzebe made a poor overhit pass to Lindelof, which not only gave the ball to Saka, but also left Aubameyang free to receive it in behind Lindelof who was then able to dink the ball over De Gea to equalise.
In the away tie, United gave away 2 goals, one of which coming from Pepe being left completely unattended to from an Arsenal cut back and the other as Sokratis reacted fasted to a loose ball right in front of goal after an Arsenal corner.
United particularly struggled with their press in this match as Arsenal found ways to outnumber them during the build-up phase and particularly out wide. This is in complete comparison to how the matches using the 3-4-1-2 have played out where the width has been defended very well on multiple occasions.
vs Spurs
With United's first game back a trip to the Tottenham Hotspur Stadium, eyes will wander back to the 2-1 victory back in December as well as the recent positive results against top clubs in the league. A penalty and near post thunderbolt saw United past a Dele Alli piece of magic and overall, it was a strong performance with a large focus on high pressure on the opposition ball carrier and closing the passing lanes to the key creators in Spurs' side.
Conclusion
Out of the 12 games played against the traditional big 6, a 4-2-3-1 and 3-4-1-2 have been used on 6 occasions each. The win rate with the 4-2-3-1 is 50% and with the 3-4-1-2 it is 66%, with 1 draw from each formation. It is clear that with both formations, the key principles are quick counter-attacks that look to utilise the speed of the frontline. The degree that United sit off depends on the opposition, with the likes of City and Liverpool the teams that United will show most respect to before countering. In recent matches, Ole has favoured the 3-4-1-2 and it is clear to see why with how successful it has been, but it is also promising that we are tactically flexible and are capable of producing big results using the 4-2-3-1 also.
I'm a massive fan of the 3-4-1-2 especially against the likes of City and Livepool as it allows us to match their numbers up front, control half space movements, limit the service to advanced full-backs, not be overwhelmed in midfield and have 2 options forward always ready to receive on the counter-attack.
The set up against Spurs in the upcoming match is not completely obvious because a decision will have to be made on whether to try and replicate the success of the 4-2-3-1 against them earlier in the season or use the 3-4-1-2 which has worked so well recently with new addition Bruno Fernandes as well as converting Shaw to a LCB.
3-4-1-2 Predicted XI: De Gea, Wan-Bissaka, Lindelof, Maguire, Shaw, Williams, Fred, Pogba, Fernandes, Rashford, Martial.
4-2-3-1 Predicted XI: De Gea, Wan-Bissaka, Lindelof, Maguire, Shaw, Fred, Pogba, Rashford, Fernandes, James, Martial.
If Pogba and/or Rashford are not quite ready to start then I expect James and Matic/McTominay to replace them in the 3-4-1-2 and Greenwood and Matic/McTominay in the 4-2-3-1.
Written by Nick Pasquet
Follow me on Twitter: https://twitter.com/Nick_FootballPA